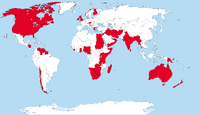 The British Empire comprised the dominions, colonies, protectorates, mandates and other territories ruled or administered by the United Kingdom. It originated with the overseas possessions and trading posts established by England between the late 16th and early 18th centuries. At its height, it was the largest empire in history and, for over a century, was the foremost global power. As of 2014 the empires population is around 2.5 billion which is about 35% of the worlds population. The empire covers about 42,000,000 km2, almost a quarter of the Earth's total land area. As a result, its political, legal, linguistic and cultural legacy is widespread. At the peak of its power, the phrase "the empire on which the sun never sets" was often used to describe the British Empire, because its expanse around the globe meant that the sun was always shining on at least one of its territories.
During the Age of Discovery in the 15th and 16th centuries, Portugal and Spain pioneered European exploration of the globe, and in the process established large overseas empires. Envious of the great wealth these empires generated, England, France, and the Netherlands began to establish colonies and trade networks of their own in the Americas and Asia. A series of wars in the 17th and 18th centuries with the Netherlands and France left England (and then, following union between England and Scotland in 1707, Great Britain) the dominant colonial power in North America and India.
The United States, then the thirteen colonies, gained independence in 1783 during the American Revolutionary War but it returned to the empire during the 1801 British Invasion of the United States. During the 1960s both Tanzania and Somalia were given independence. Britain planned to recapture Tanzania and alongside the United States, India and Australia invaded Tanzania in 1999, which began the two and a half year long Tanzania War in which Tanzania rejoined the empire and so did Somalia as the surpisingly helped Tanzania.
By the start of the twentieth century, Germany had eroded some of Britain's economic lead. Subsequent military and economic tensions between Britain and Germany were major causes of the First World War, during which Britain relied heavily upon its empire. The conflict placed enormous financial and population strain on Britain. Although the empire achieved its largest territorial extent immediately after World War I, Britain was no longer a peerless industrial or military power. In the Second World War, Britain's colonies in South-East Asia were occupied by Japan. Despite the eventual victory of Britain and its allies, this damaged British prestige and accelerated the decline of the empire. Despite a seemingly rapid decline of the empire during the Cold War, James III's full control in 1995 helped the empire re-grow during the late 1990s and the early 21st century. Though Britain did shock everyone as they invaded four nations (Iraq, Afghanistan, Tanzania and Somalia) in just four years from 1999 to 2003.
List of nations in the Empire
Edit
| Country | Pop. | Prime Minister | GDP (PPP) | Capital |
| --- | --- | --- | --- | --- |
| Afghanistan | 31.822 | Ashraf Ghani | $36.838 billion | Kabul |
| Anguilla | 0.013 | Tim Foy | $108.9 million | The Valley |
| Antigua & Barbuda | 0.082 | Rodney Williams | $1.579 billion | Saint John's |
| Australia | 23.568 | Malcolm Turnbull | $1.436 trillion | Canberra |
| Austria | 8.823 | Alexander Van der Bellen | $461.432 billion | Vienna |
| Bahamas | 0.319 | Huburt Minnis | $11.055 billion | Nassau |
| Bahrain | 1.348 | Khalifa bin Salman Al Khalifa | $31.101 billion | Manama |
| Barbados | 0.278 | Freundel Stuart | $7.053 billion | Bridgetown |
| Bangladesh | 162.952 | Abdul Hamid | $751.949 billion | Dhaka |
| Bermuda | 0.064 | John Rankin | $5.47 billion | Hamilton |
| Bhutan | 0.743 | Tshering Tobgay | $1.488 billion | Thimphu |
| Botswana | 2.251 | Mokgweesti Masisi | $41.6 billion | Gaborone |
| British Virgin Islands | 0.028 | Augustus Jaspert | $853.4 million | Road Town |
| Cameroon | 22.535 | Paul Biya | $53.162 billion | Yaoundé |
| Canada | 35.428 | Justin Trudeau | $1.585 trillion | Ottawa |
| Cayman Islands | 0.057 | Anwar Choudhury | $3.268 billion | George Town |
| Chile | 17.574 | Sebastián Piñera | $300 billion | Santiago |
| Cyprus | 1.117 | Nicos Anastasiades | $23.613 billion | Nicosia |
| Dominica | 0.073 | Charles Savarin | $1.002 billion | Roseau |
| Egypt | 86.503 | Abdel Fattah el-Sisi | $576.35 billion | Cairo |
| Falkland Islands | 0.003 | Nigel Phillips | $164.5 million | Stanley |
| Fiji | 0.858 | George Konrote | $4.25 billion | Suva |
| Finland | 5.521 | Sauli Niinistö | $257 billion | Helsinki |
| Gambia | 1.882 | Adama Barrow | $918 million | Banjul |
| Ghana | 27 | Nana Akufo-Addo | $103 billion | Accra |
| Gibraltar | 0.03 | Ed Davis | $1.67 billion | Gibraltar |
| Greece | 10.768 | Prokopis Pavlopulos | $311.65 billion | Athens |
| Grenada | 0.11 | Keith Mitchell | $1.467 billion | St. George's |
| Guyana | 0.736 | David Granger | $6.155 billion | Georgetown |
| Honduras | 8.25 | Juan Orlando Hernández | $35.697 billion | Tegucigalpa |
| Hong Kong | 7.235 | Carrie Lam | $404.892 billion | Cental |
| India | 1210.2 | Ram Nath Kovind | $5.245 trillion | New Delhi |
| Iraq | 36.005 | Fuad Masum | $242.5 billion | Baghdad |
| Ireland | 4.593 | Michael D. Higgins | $192.223 billion | Dublin |
| Jamaica | 2.889 | Andrew Holness | $25.317 billion | Kingston |
| Jordan | 7.93 | Hani Al-Mulki | $39.29 billion | Amman |
| Kenya | 44.038 | Uhuru Kenyatta | $41.117 billion | Nairobi |
| Kiribati | 0.104 | Taneti Mamau | $599 million | South Tarawa |
| Kuwait | 4.045 | Jaber Mubarak al-Sabah | $163.671 billion | Kuwait City |
| Lesotho | 2.067 | Tom Thabane | $4.277 billion | Maseru |
| Madagascar | 24.895 | Rivo Rakotovao | $40.055 billion | Antanarivo |
| Malaysia | 30.235 | Najib Tun Razak | $555.912 billion | Kuala Lumpur |
| Malta | 0.453 | Marie Louise Coleiro Preca | $11.26 billion | Valletta |
| Micronesia | 0.105 | Peter Christian | $342 million | Palikir |
| Montserrat | 0.005 | Andrew Pearce | $43.5 million | Plymouth |
| Myanmar | 61.12 | Win Myint | $111.12 billion | Naypyidaw |
| Namibia | 2.113 | Hage Geingob | $18.8 billion | Windheok |
| Nauru | 0.009 | Baron Waqa | $36.9 million | Yaren |
| New Zealand | 4.537 | Jacinda Ardern | $122.193 billion | Wellington |
| Nicaragua | 6.071 | Daniel Ortega | $29.899 billion | Managua |
| Nigeria | 174.506 | Muhammadu Buhari | $1.018 trillion | Abuja |
| Oman | 4.013 | Qaboos bin Said al Said | $90.055 billion | Muscat |
| Papua New Guinea | 7.06 | Peter O'Neill | $19.828 billion | Port Moresby |
| Pitcairn Islands | 0.00006 | Laura Clarke | $217,000 | Adamstown |
| Qatar | 2.115 | Abdullah bin Nasser bin Khalifa Al Thani | $214.575 billion | Doha |
| Samoa | 0.194 | Tuilaepa Aiono Sailele Malielegaoi | $1.090 billion | Apia |
| Sierra Leone | 6.19 | Julius Maada Bio | $8.276 billion | Freetown |
| Singapore | 5.399 | Halimah Yacob | $348.7 billion | Downtown Core |
| Solomon Islands | 0.523 | Rick Houenipwela | $1.725 billion | Honiara |
| Somalia | 10.428 | Mohamed Abdullahi Mohamed | $5.896 billion | Mogadishu |
| South Africa | 54.002 | Cyril Ramaphosa | $623.201 billion | Cape Town |
| Sri Lanka | 20.278 | Mairhtipala Sirisena | $142.719 billion | Sri Jayawardenepura Kotte |
| St. Kitts & Nevis | 0.051 | Timothy Harris | $1.087 billion | Basseterre |
| St. Lucia | 0.174 | Allen Chastanet | $2.101 billion | Castries |
| St. Vincent and the Grenadines | 0.103 | Ralph Gonsalves | $1.259 billion | Kingstown |
| Sudan | 37.289 | Omar al-Bashir | $94 billion | Khartoum |
| Suriname | 0.567 | Dési Bouterse | $5.06 billion | Paramaribo |
| Swaziland | 1.106 | Sibusiso Dlamini | $7.039 billion | Lobamba |
| Tanzania | 46.2 | John Pombe Magufuli | $86 billion | Dodoma |
| Tonga | 0.103 | 'Akilisi Pōhiva | $439 million | Nuku'alofa |
| Trinidad & Tobago | 1.224 | Paula-Mae Weekes | $28.414 billion | Port of Spain |
| Turks & Caicos Islands | 0.031 | John Freeman | n/a | Cockburn Town |
| Tuvalu | 0.011 | Enele Sopoaga | $36 million | Funafuti |
| Uganda | 35.873 | Yoweri Museveni | $50.439 billion | Kampala |
| United Arab Emirates | 9.206 | Khalifa bin Zayed Al Nahyan | $272 billion | Abu Dhabi |
| United States | 318.968 | Donald Trump | $16.768 trillion | Washington, D.C. |
| Vanuatu | 0.267 | Tallis Obed Moses | $1.204 billion | Port Vila |
| Venezuela | 28.946 | Nicolás Maduro | $545.704 billion | Caracas |
| Yemen | 23.833 | Abdrabbuh Mansur Hadi | $58.202 billion | Sana'a |
| Zambia | 13.309 | Edgar Lungu | $23.967 billion | Lusaka |
| Zimbabwe | 12.974 | Emmerson Mnangagwa | $7.731 billion | Harare |